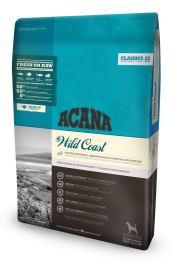 Acana Wild Coast - Local Delivery Only
Regular price £67.99 Sale
Due to restrictions from Acana's UK distributor, this product is only available for local delivery or instore purchase or collection. Check for local delivery area by clicking the Free Delivery banner at the top or this page or call us on 02840238090
11.4kg £57.99 / 6kg £37.99 / 2kg £16.99
Loaded with nourishing protein and omega-3 fatty acids ACANA Wild Coast features sustainable fish, wild-caught off North Vancouver Island's cold Pacific waters and whisked to our kitchen FRESH and WHOLE, so they're bursting with goodness and taste.
Free of high-glycaemic carbohydrates, ACANA Classics feature low-glycaemic and locally grown steel-cut oats that helps to support stable blood sugar and peak physical conditioning.
Prepared in Champion Petfoods' award-winning NorthStar® kitchens with fresh, trusted and regional ingredients, we think you'll love ACANA. More importantly, we think your dog will too!
INGREDIENTS
ACANA Wild Coast features an unmatched variety of regional fish that are wild-caught by people we know and trust, deemed "fit for human consumption", and then delivered to our award-winning kitchens fresh and whole each day!
Herring meal (24%), steel-cut oats (23%), fresh whole pacific herring (10%), fresh whole flounder (6%), herring oil (6%), cold-pressed canola oil, fresh whole silver hake (4%), whole red lentils, whole green peas, whole green lentils, whole garbanzo beans, whole yellow peas, whole oats, sun-cured alfalfa, lentil fibre, dried brown kelp, fresh pumpkin, fresh butternut squash, fresh parsnips, fresh green kale, fresh spinach, fresh carrots, fresh red delicious apples, fresh bartlett pears, freeze-dried herring (0.1%), fresh cranberries, fresh blueberries, chicory root, turmeric root, milk thistle, burdock root, lavender, marshmallow root, rosehips.
SUPPLEMENTS
VITAMIN E, CHOLINE CHLORIDE, ZINC CHELATE, VITAMIN B5, COPPER 
| | |
| --- | --- |
| Crude protein (min.) | 29% |
| Fat content (min.) | 17% |
| Crude ash (max.) | 7.5% |
| Crude fibres (max.) | 5% |
| Moisture (max.) | 12% |
| Calcium (min.) | 1.1% |
| Phosphorus (min.) | 0.9% |
| Omega-6 fatty acids (min.) | 2.4% |
| Omega-3 fatty acids (min.) | 1.4% |
| DHA (min.) | 0.4% |
| EPA (min.) | 0.3% |
| Glucosamine (min.) | 700 mg/kg |
| Chondroitin sulfate (min.) | 900 mg/kg |
| Linoleic acid (min.) | 2.9% |
| Carbohydrate (NFE) | 29.5% |