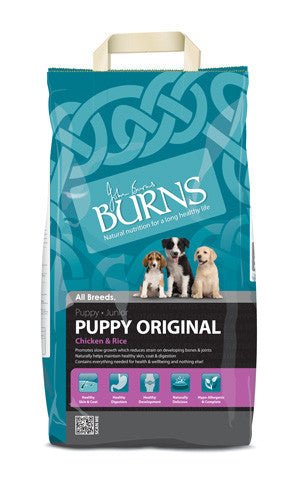 Burns Puppy Original - Chicken & Rice
Regular price £12.75 Sale
Recommended for: All breeds of Puppies and Juniors, also suitable for underweight adult dogs and pregnant/nursing bitches
Hypo-allergenic & formulated without Wheat Gluten
No added wheat, beef or dairy
Suitable for dogs with sensitive skin
Suitable for dogs with sensitive digestion
Highly Digestible
Economical
Less to clear up
Promotes all-round health and vitality
Composition:
Chicken Meal (30%), Brown Rice (21%), White Rice (21%), Oats, Peas, Chicken Oil, Beet Pulp, Sunflower Oil, Seaweed, Vitamins & Minerals.
Analytical Constituents:
Crude Protein 24.0%, Crude Oil & Fats 12.%, Crude Fibre 3.0%, Crude Ash 7.0%, Copper 19mg/kg, Sodium 0.19%, Calcium 1.63%, Phosphorus 0.94%, Magnesium 0.12%, Potassium 0.40%, Essential Fatty Acids 3.94%
Nutritional Additives:
Vitamin A 25,000 iu/kg, Vitamin D3 2,000 iu/Kg, Vitamin E 150 iu/Kg, Calcium Iodate Anhydrous 1.5mg/kg, Cupric Sulphate Pentahydrate 55mg/kg, Sodium Selenite 0.6 mg/kg, Ferrous Sulphate Monohydrate 160mg/kg, Manganous Sulphate Monohydrate 100mg/kg, Zinc Sulphate Monohydrate 130mg/kg
You want to give your puppy the best possible start in life. Containing everything a young dog needs for health and wellbeing Burns Puppy Original has been developed to meet the nutritional needs of puppies and junior dogs of all breeds. This premium quality diet is formulated with carefully controlled levels of protein, fat and minerals to promote slow growth and reduce the strain put on developing bones and joints.  It contains oats which release energy slowly, helping your puppy play all day.
Quality Ingredients
Made with whole grains and high quality animal proteins, Burns Puppy Original is a complete diet containing all the nutrients a young dog needs for healthy development, ensuring they grow into happy, healthy adults.
Hypo-Allergenic
Burns Puppy Original is hypo-allergenic, so it is suitable for even the most sensitive dog. It is formulated without ingredients such as wheat, soya, dairy, artificial colourings and artificial preservatives which are known to cause symptoms of food intolerances including itchy skin, excessive moulting, full anal glands and waxy ears.
Lower Feeding Costs
Containing only the finest quality ingredients Burns Puppy Original is highly digestible therefore feeding amounts are lower meaning that daily feeding costs are significantly lower than those of other premium brands.
The Holistic Approach
Burns puppy diets naturally maintain healthy skin, coat and digestion.