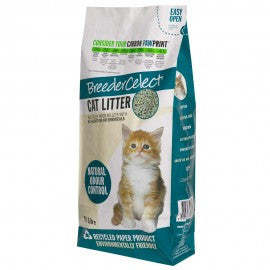 Breeder Celect Cat Litter
Regular price £14.00 Sale
Available in 20 litre bags.
Uniquely formulated BreederCelect cat litter pellets are made from >99% recycled paper with no additives or chemicals
Superior cat litter qualities include
Natural odour control
No additives or chemicals
Highly absorbent – superior performance
Suitable for all cat breeds
Biodegradable
Economical – long lasting
Lightweight – easy to handle
Virtually dust-free – reduces tracking & will not mark floors
20 litre and 30 litre packs
New pack features include
Handles on packs make them easier to lift, carry and use
Easy pour spout makes them easier to pour and gives more control.
Loyal pet owners, breeders and veterinarians agree that other litters are simply "left in the dust!"
BreederCelect cat litter usage suggestions
Pour litter 2–4cm (1–2 inches) deep into tray.
If your pet does not readily accept the new pellets, sprinkle some over existing litter, & increase new pellets daily.
For best results, remove waste (solid and urine) regularly & stir pellets to aerate. Top up with fresh pellets as needed, & completely replace at least once a week.
Waste can be used as a surface mulch.