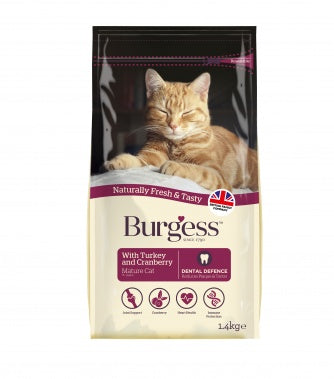 Burgess Cat - Mature
Burgess cat foods are made using premium ingredients to ensure excellent quality and superior taste. We use British protein sources combined with healthy cereals, natural antioxidants and essential nutrients to help keep your cat happy and healthy.
This unique recipe is specially designed to support your cat into its senior years (7+ years old) and includes highly digestible proteins to help maintain strong muscles, natural antioxidants to support the immune system and glucosamine to support healthy joints.
Mature Cat With Turkey & Cranberry can be fed from 7+ years.Proven Dental Technology
Did you know, it's estimated that up to 70% of cats develop dental disease by the age of three? That's why we've included 
Dental Defence Technology
 which contains a specialist ingredient to reduce plaque formation and support healthy teeth and gums.
Joint Support

 

- Glucosamine is a natural ingredient which helps maintain healthy joints
Cranberry

 

- Widely believed to be beneficial to the urinary tract
Heart Health

 

- Taurine helps support a healthy heart
Immune Protection

 

- Natural antioxidants support your cat's immune system into its senior years
Skin & Coat

 

- Omega fatty acids support healthy skin and a glossy coat
Analytical Constituents
Protein 31% • Fat Content 11% • Crude Fibres 1.5% • Crude Ash 6.5%
Composition
Poultry meal (22%) • Maize • Rice • Wheat • Maize gluten • Poultry fat • Turkey meal (min 4%) • Hydrolysed poultry powder (3%) • Chicken digest • Unmolassed beet pulp • Brewer's yeast • Fish meal • Egg (1%) • Short chain fructo-oligosachharides (0.3%) • Potassium chloride • STAY-C® 50 (700mg/kg) • Cranberry (0.065%) • Salt • Glucosamine HCI (30mg/kg)
Nutritional Additives
Vitamin A (retinyl acetate) (E672) 25,000 iu/kg • Vitamin C (l-ascorbic acid monophosphate) 70 mg/kg • Vitamin D3 (cholecalciferol) (E671) 2,000 iu/kg • Vitamin E (dl alpha tocopherol acetate) (3a700) 250 mg/kg • Copper (copper sulphate pentahydrate) (E4) 20 mg/kg • Iodine (calcium iodate anhydrous) (E2) 0.55 mg/kg • Iron (ferrous sulphate monohydrate)(E1) 200 mg/kg • Manganese (manganese oxide) (E5) 24 mg/kg • Selenium (sodium selenite) (E8) 0.33 mg/kg • Zinc (zinc sulphate monohydrate) (E6) 428 mg/kg • Taurine 1,500 mg/kg • Methionine 2,500 mg/kg.
Technological Additives
Tocopherol Rich Extracts of Natural Origin 100 mg/kg.