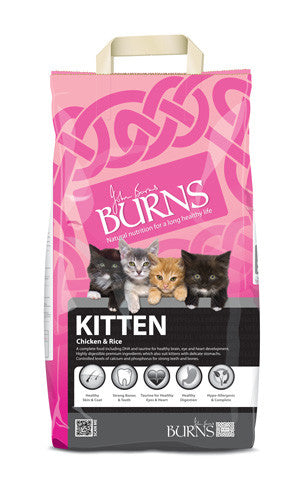 Burns Kitten- Chicken & Brown Rice 2kg
Regular price £15.99 Sale
Burns Chicken & Rice is a complete, balanced, highly palatable premium food for all breeds of kitten. For very young kittens we suggest that the food is soaked in warm water and made into a porridge consistency.
Contains all the essential nutrients kittens need, so they grow and develop into happy, healty adults.
All Burns diets are formulated without ingredients which commonly cause food intolerance such as wheat, soya, dairy, artificial colourings, artificial flavourings and artificial preservatives.
Composition:
Chicken Meal (43.%), White Rice (33.%), Maize, Chicken fat, Hydrolysed Chicken Livers, Vitamins & Minerals, Seaweed and Salmon Oil.
Analytical Constituents:
Crude Protein 34%, Crude Oil & Fats 18.0%, Crude Fibres 1.5%, Crude Ash** 7.5%, Sodium 0.28%, Calcium 1.71%, Phosphorus 1.09%, Magnesium 0.11%, Potassium 0.50%, Essential Fatty Acids 4.05%,
**Crude Ash is a measure of mineral content, which is essential for your pet's health.
Nutritional Additives:
Vitamins: Vitamin A 21,630 IU/kg, Vitamin D3 1730 IU/kg, Vitamin E 82 IU/kg. Trace Elements: Zinc Sulphate Monohydrate 270 mg/kg, Ferrous Sulphate Monohydrate 240 mg/kg, Manganous Sulphate Monohydrate 90 mg/kg, Cupric Sulphate Pentahydrate 20mg/kg, Sodium Selenite 0.6mg/kg, Taurine 500mg/kg.