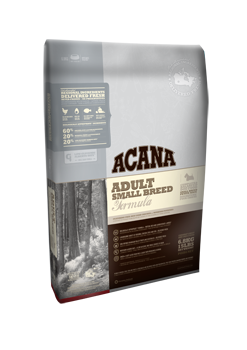 Acana Adult Dog Small Breed
Regular price £20.99 Sale
For Small Breed Dogs 1 Year and Older
Mother Nature evolved dogs of all breeds as carnivores, biologically adapted for a diet rich and varied in meats, with smaller amounts of fruits, vegetables and grasses.
That's why we loaded ACANA Adult Small Breed with cage-free Cobb chicken and whole eggs from local prairie farms, wild-caught flounder from North Vancouver Island, and sun-ripened fruits & vegetables from the Okanagan Valley – all delivered fresh and preservative-free each day to nourish your dog completely.
Prepared from Canada's best and freshest ingredients in our award-winning kitchens, ACANA is a delicious way to keep your little dog healthy, happy, and strong.
Read our ingredients and we think you'll agree!
Delivered Fresh Each Day
ACANA Adult Small Breed features an unmatched variety of local ingredients that are raised or fished by people we know and trust, passed "fit for human consumption", and then delivered to our door fresh each day!
Fresh chicken meat (12%), chicken meal (12%), turkey meal (12%), red lentils, whole green peas, field beans, chicken fat (5%), fresh chicken giblets (liver, heart, kidney) (4%), herring meal (4%), fresh whole eggs (4%), fresh whole flounder (4%), herring oil (2%), sun-cured alfalfa (2%), green lentils (2%), whole yellow peas, pea fiber, fresh chicken cartilage (1%), dried brown kelp, fresh whole pumpkin, fresh whole butternut squash, fresh whole parsnips, fresh kale, fresh spinach, fresh mustard greens, fresh turnip greens, fresh whole carrots, fresh red delicious apples, fresh Bartlett pears, freeze-dried chicken liver, freeze-dried turkey liver, fresh whole cranberries, fresh whole blueberries, chicory root, turmeric, milk thistle, burdock root, lavender, marshmallow root, rose hips, enterococcus faecium.
CALORIE CONTENT
Metabolizable Energy is 3510 kcal/kg (421 kcal per 250ml/120g cup), with 31% from protein, 28% from fruits and vegetables, and 41% from fat.
Compared to conventional foods, ACANA delivers more calories from protein and fat and fewer calories from carbohydrates, reducing the risk of obesity and promoting your dog's peak health.
| | |
| --- | --- |
| Crude protein (min.) | 31 % |
| Fat content (min.) | 17 % |
| Crude ash (max.) | 7 % |
| Crude fibres (max.) | 5 % |
| Moisture (max.) | 12 % |
| Calcium (min.) | 1.4 % |
| Phosphorus (min.) | 1.1 % |
| Omega-6 fatty acids (min.) | 2.6 % |
| Omega-3 fatty acids (min.) | 1 % |
| DHA (min.) | 0.3 % |
| EPA (min.) | 0.3 % |
| Glucosamine (min.) | 1400 mg/kg |
| Chondroitin sulfate (min.) | 900 mg/kg |
| Linoleic acid (min.) | 2.4 % |
| Carbohydrate (NFE) | 28 % |